פרשת חקת
6/19/21 - 6/25/21
ט׳ תמוז תשפ״א - ט״ו תמוז תשפ״א
Schedule
SHABBOS (6/19)


Leil Shabbos


Early Shabbos
Mincha - 6:50
Candle Lighting - 7:04 to 7:12
Bzman Mincha/Candle Lighting - 8:18



Shabbos Day


Daf Yomi - 7:45
Shacharis - 4:59, 7:15, 8:30
Sof Zman Krias Shema (Gra) - 9:24
Sof Zman Tefilla (Gra) - 10:38
Daf Yomi - 5:00 (Yoma 69)
Rav's Gemara Shiur - 5:00
Mincha - 2:00, 5:00, 6:00, 8:00
Rav's Halachic Issue Shiur - 9:05
Maariv - 9:37
Zman Melacha - 9:49

WEEKDAY (6/20 - 6/25)



SHACHARIS


Sun, Wed, Tues, Fri - 6:20, 7:00, 7:30, 8:00, 8:30, 9:00
Mon, Thurs - 6:10, 6:50, 7:20, 8:00, 8:30, 9:00



MINCHA


Sun - 2:00, 3:00, 4:00, 5:00, 5:30, 6:00, 6:30, 7:00, 7:30, 8:00
Mon - Thurs - 2:00, 4:00, 5:00, 5:30, 6:00, 6:30, 7:00, 7:30, 8:00
Fri - 2:00, 3:00, 5:00, 6:00



MINCHA/MAARIV


Sun - Thurs - 8:20



MAARIV


Sun - Thurs - 9:00, 9:30, 10:00, 10:30, 11:00
Sun, Thurs (additional) - 11:30
Announcements
Shabbos Day Pirchei Groups - 2:30
Grades 1-5

Shalosh Seudos will take place in shul this week following the latest mincha.

The Rebbitzen Ruderman library is open for walk-ins. The hours are Sunday 2:00 pm - 5:00 pm and Wednesday 7:00 pm - 9:00 pm.

The Rav's biweekly shiur for women will take place this week on Monday at 9:00 pm. The shiur is both in-person and virtual.
Phone: 408-418-9388; Access code: 798 761 947. All callers will be muted to start.
Online: link here.

Lost & Found - On Shiva Asar B'Tammuz, Sunday, June 27, there will be a shul cleanout. Anything laying around, not marked with some form of identification, will be removed.

Chofetz Chaim's Shaar HaTorah - Rav Levi Yitzchak Lieberman, a dayan in Lakewood, recently started distributing short articles on Shaar HaTorah. The work primarily focuses on the many facets of Torah learning, often providing powerful ideas and chizuk. Rav Lieberman explains difficult passages and provides real-life applications and stories. This project was prompted as a zechus for Rav Lieberman, who is battling cancer. To receive these weekly articles and give encouragement to Rav Lieberman, please email ZevKilstein@gmail.com with your request.
Sponsorship Opportunities
Thursday Night Mishmar - Grades 6-8. Includes Parsha Shiur, Cholent and Drinks. Sponsorship: $100
Weeknight Middle School Chavrusa Learning - Grades 6-8. Includes Slushies or Drinks. Sponsorship: $54
For more information, please email R' Zvi Schwartz at rabbitzvischwartz@gmail.com.
Recent Sponsorships
Thank you to:
Mr. & Mrs. Yaakov Sugarman, for sponsoring a beautiful Vagshal Chosson Shas L'Iluy Nishmas Chonon ben Lipa, Lipa ben Refoel, and Baila Bas Yitzchak Meir.

Mr. & Mrs Chaim Abraham, for sponsoring a new set of Artscroll Ryzman Hebrew Mishnayus.
In-person Learning Programs
Rav Heinemann





Rav Heinemann's shiurim are also available by live dial-in at:
1-408-418-9388
Access code: 798 761 947

  All callers will be muted to start.
  If you wish to ask a question, unmute yourself by pressing *6   
  After the question re-mute yourself by again pressing *6
Storch Memorial Halacha Shiur – Sunday, 7:30pm in 3rd floor Beis Medresh

Choshen Mishpat – Sunday, 8:30pm in 3rd floor side classroom

Rambam – Tuesday, 8:30pm in basement

Michtav M'Eliyahu – Thursday, 9:00pm in 3rd floor side classroom

Halachic Issues – Shabbos, approx. half-hour before Maariv in 1st floor Beis Medresh

Halacha (women only) – alternate Mondays, 9:00 - 9:45pm in balcony

The Shiur

will be in-person! For those who are unable to participate in person, we have phone and video options. Phone is described above.

Internet Video: cdn.audiovideoweb.com/lnks/play/8c3flslive2170


Some technical support will be available at: 443-850-3190
---
Rav Frankel
Daf Yomi – 

At Agudah in library: Sunday 7:45 - 9:15am; Shabbos, one hour before mincha

At Glen Ave: Monday - Thursday 9:00 - 10:00pm

Mishna Berurah – 

Sunday, 8:30 - 9:00pm

Monday - Thursday 8:20 - 8:55pm in balcony
Community Announcements
National Service: The Technology Chizuk Hotline. Inspiration regarding the challenges of modern technology. Call to listen to a collection of powerful speeches given by rabbonim and mechanchim. Tel: 641-715-3800 code 886563#. Available in English, Hebrew, Yiddish.

Ride Gemach - Please call the Share-A-Ride G'mach at 410-358-RIDE, if you or your guests are traveling to or from Baltimore and can take packages or passengers.
Wed, June 23 2021
13 Tammuz 5781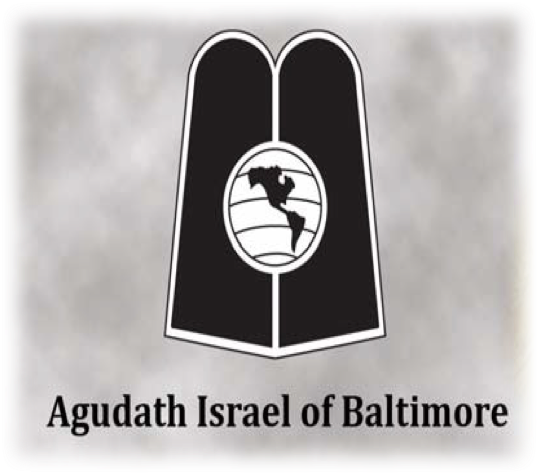 Wed, June 23 2021 13 Tammuz 5781