Yomim Noraim 5783
To reserve seats for Yomim Noraim 5783, click here. Alternatively, a fillable PDF of the reservation form can be found here, please email completed forms to president@agudah.com
פרשת וילך
יום כפור
10/1/22 - 10/7/22
ו׳ תשרי תשפ״ב - י״ב תשרי תשפ״ג
LEIL SHABBOS
Mincha - 2:00, 3:00, 5:00
Mincha/Candle Lighting - 6:32
Shkiya - 6:50

SHABBOS
Daf Yomi - 7:45
Shacharis - 6:22, 7:15, 8:30
Sof Zman Krias Shema (Gra) - 9:59
Sof Zman Tefilla (Gra) - 10:58
Daf Yomi - 4:00 (Kesuvos 87)
Shabbos Shuva Drasha - 5:00
Mincha - 2:00, 4:30, 6:00
Rav's Halachic Issue Shiur - 7:20
Maariv - 7:50
Zman Melacha - 8:02

SUNDAY (10/2)



Shacharis (with Selichos) - 5:40, 6:15, 7:00, 7:45, 8:15, 8:45

Mincha - 2:00, 3:00, 4:00, 5:00, 5:30

Mincha/Maariv - 6:25

Maariv - 7:30, 8:00, 8:30, 9:00, 9:30, 10:00, 10:30, 11:00





MONDAY (10/3)
Shacharis (with Selichos) - 5:30, 6:05, 7:00, 7:45, 8:15, 8:45
Mincha - 2:00, 4:00, 5:00, 5:30

Mincha/Maariv - 6:25

Maariv - 7:30, 8:00, 8:30, 9:00, 9:30, 10:00, 10:30, 11:00




TUESDAY, EREV YOM KIPPUR (10/4)
Shacharis (with Selichos) - 6:00, 6:40, 7:00, 7:45, 8:15, 8:45
Mincha (with viduy) - 1:30, 2:00, 3:00, 4:00, 4:15

Kol Nidrei & Candle Lighting - 6:26

Maariv - 7:35




WEDNESDAY, YOM KIPPUR (10/5)



Hanetz Minyan

Shacharis - 6:05

Regular Minyan

 Shacharis - 7:30

 Yizkor (approx) - 11:30

Mincha (approx) - 4:20

Neila (approx) - 6:00

Maariv, Zman Melacha, End of Fast - 7:55

Kiddush Levana





THURSDAY (10/6)



Shacharis - 6:08, 6:45, 7:15, 7:55, 8:25, 8:55, 9:25

Mincha - 1:30, 2:00, 3:00, 4:00, 5:00, 5:30

Mincha/Maariv - 6:25

Maariv - 7:30, 8:00, 8:30, 9:00, 9:30, 10:00, 10:30, 11:00, 11:30





FRIDAY (10/7)



Shacharis - 6:20, 7:00, 7:30, 8:00, 8:30, 9:00
Mincha - 1:30, 2:00, 3:00

Mincha/Candle Lighting - 6:21

Shkiya - 6:39
Announcements
Shalosh Seudos will take place in shul this week following the latest mincha. Shalosh Seudos this week is sponsored by Rabbi & Mrs. Zvi Schwartz, l'iluy nishmas his father, ר' יצחק משה בן ר' מרדכי צבי הכהן, whose yahrtzeit is on Yom Kippur.

The Rav's biweekly shiur for women will take not place this week on Monday. The shiur will resume after Succos.

Yomim Noraim - You can reserve Yomim Noraim seats online here.

Babysitting available at the Agudah for the Yomim Noraim for young children under the age of 8 years old. If you are interested, please contact Aryeh Katz at president@agudah.com. Please provide names and ages of children - this service is only available for those whose names are provided.

Arba Minim - Sets available for pre-order. Esrogim are not Shmitta and are from Chutz La'aretz. For more information send an email to AgudahLulav@gmail.com.
Youth Learning Programs
Weekday
- Monday Night Chaburah - Boys grades 6-8. 7:00 - 7:45. Followed by
hot food. Maariv at 8:00.

Shabbos
- Likras Shabbos - Done for the year
- Pirchei Shabbos Groups - 2:30 - 3:30
- Avos Uvanim Bais Medrash - 5:25 - 6:10 on second floor
Sponsorship Opportunities
New large shas for the third floor - please contact Rabbi Zvi Schwartz.

Shabbos Afternoon Avos Ubanim (Monthly) - please contact Rabbi Yaakov Horowitz
In-person Learning Programs
Storch Memorial Halacha Shiur – Sunday, 7:30pm in 3rd floor Beis Medresh

Choshen Mishpat – Sunday, 8:30pm in 3rd floor side classroom

Rambam – Tuesday, 8:30pm in basement

Sefer Chofetz Chaim – Thursday, 9:00pm in 3rd floor side classroom
The above shiurim by Rav Heinemann are also available by live dial-in at:
+1-408-418-9388 Access code: 798 761 947
Halachic Issues – Shabbos, approx. half-hour before Maariv in 1st floor Beis Medresh

Halacha (women only) – alternate Mondays, 9:00 - 9:45pm in balcony
Dial-in information:
+1-301-715-8592 Access code: 896 2825 0403 Passcode: 661133
To Join the Video Zoom Meeting, click on: https://us06web.zoom.us/j/89628250403?pwd=T09nMXgwSnBtWHg0SjhHZ2xQczVyUT09
For dial-in shiurim: All callers will be muted to start. If you wish to ask a question, unmute yourself by pressing *6 After the question re-mute yourself by again pressing *6
---
Rav Frankel
Daf Yomi –

At Agudah in library: Sunday 7:45 - 9:15am; Shabbos, one hour before mincha

At Glen Ave: Monday - Thursday 9:00 - 10:00pm

Mishna Berurah –

Sunday, 8:30 - 9:00pm

Monday - Thursday 8:20 - 8:55pm in balcony
Community Announcements
National Service: The Technology Chizuk Hotline. Inspiration regarding the challenges of modern technology. Call to listen to a collection of powerful speeches given by rabbonim and mechanchim. Tel: 641-715-3800 code 886563#. Available in English, Hebrew, Yiddish.

Ride Gemach - Please call the Share-A-Ride G'mach at 410-358-RIDE, if you or your guests are traveling to or from Baltimore and can take packages or passengers.

Notice from the NWCP - In addition to our regular patrol, the Northwest Citizens Patrol is available to:

-
Keep an eye on your house when you are on vacation
-
Watch over attendees as they arrive and leave your events
To schedule these services, please go to our website nwcp.info, scroll down to Event Protection or Watch your Home. Just answer the few short questions listed and we will take care of the rest. You can also reach us by phone at 410-664-6927 x2
Wed, October 5 2022
10 Tishrei 5783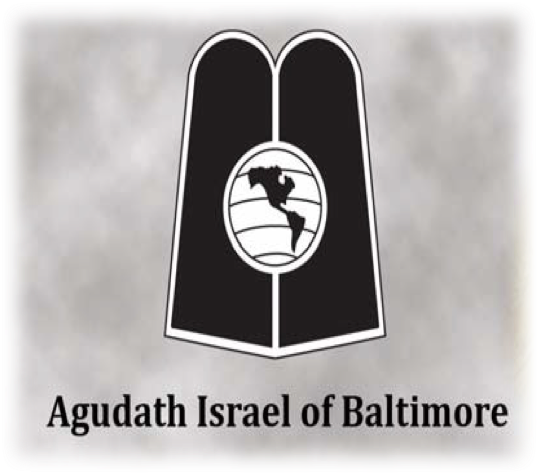 Wed, October 5 2022 10 Tishrei 5783