פרשת וירא
10/23/21 - 10/29/21
י״ז מר חשון תשפ״ב - כ״ג מר חשון תשפ״ב
LEIL SHABBOS
Bzman Mincha/Candle Lighting - 5:59
Shkiya - 6:17

SHABBOS
Daf Yomi - 7:45
Shacharis - 6:45, 7:15, 8:30
Sof Zman Krias Shema (Gra) - 10:07
Sof Zman Tefilla (Gra) - 11:02
Daf Yomi - 4:40 (Rosh Hashana 14)
Rav's Gemara Shiur - 4:40
Mincha - 2:00, 5:25, 5:40
Rav's Halachic Issue Shiur - 6:45
Maariv - 7:17
Zman Melacha - 7:29
SHACHARIS
Sun, Tues, Wed, Fri - 6:20, 7:00, 7:30, 8:00, 8:30, 9:00
Mon, Thurs - M 6:16/Th 6:19, 6:50, 7:20, 8:00, 8:30, 9:00

MINCHA
Sun - 2:00, 3:00, 4:00, 5:00, 5:30
Mon - Thurs - 2:00, 4:00, 5:00, 5:30
Fri - 2:00, 3:00



MINCHA/

MAARIV
Sun - Thurs - 5:55

MAARIV
Sun - Thurs - 7:00, 7:30, 8:00, 8:30, 9:00, 9:30, 10:00, 10:30, 11:00
Announcements
Shabbos Pirchei Groups - 2:30
Grades 1-5

Shalosh Seudos will take place in shul this week following the latest mincha.

The Rav's biweekly shiur for women will take place this week on Monday at 9:00 pm in the Balcony. The shiur is both in-person and virtual.
Phone: 301-715-8592; Access code: 366 637 0629. Passcode:123
All callers will be muted to start.
Online: link here.

The Rebbitzen Ruderman Library has been negatively impacted by Covid-19 and needs your financial help. Please contribute using the link at the bottom of this newsletter.

New Agudah schedules have been sent out. Below are links to the PDF versions:
In-person Learning Programs
Storch Memorial Halacha Shiur – Sunday, 7:30pm in 3rd floor Beis Medresh

Choshen Mishpat – Sunday, 8:30pm in 3rd floor side classroom

Rambam – Tuesday, 8:30pm in basement

Michtav M'Eliyahu – Thursday, 9:00pm in 3rd floor side classroom
The above shiurim by Rav Heinemann are also available by live dial-in at:
+1-408-418-9388 Access code: 798 761 947
Halachic Issues – Shabbos, approx. half-hour before Maariv in 1st floor Beis Medresh

Halacha (women only) – alternate Mondays, 9:00 - 9:45pm in balcony
NEW Dial-in information:
+1-301-715-8592 Access code: 366 637 0629 Passcode :123
NEW To Join the Video Zoom Meeting, click on: https://us02web.zoom.us/j/3666370629?pwd=Zm5CNE9kenRFbHEraVZNaXhmSjdDdz09
For dial-in shiurim: All callers will be muted to start. If you wish to ask a question, unmute yourself by pressing *6 After the question re-mute yourself by again pressing *6
---
Rav Frankel
Daf Yomi –

At Agudah in library: Sunday 7:45 - 9:15am; Shabbos, one hour before mincha

At Glen Ave: Monday - Thursday 9:00 - 10:00pm

Mishna Berurah –

Sunday, 8:30 - 9:00pm

Monday - Thursday 8:20 - 8:55pm in balcony
Community Announcements
National Service: The Technology Chizuk Hotline. Inspiration regarding the challenges of modern technology. Call to listen to a collection of powerful speeches given by rabbonim and mechanchim. Tel: 641-715-3800 code 886563#. Available in English, Hebrew, Yiddish.

Ride Gemach - Please call the Share-A-Ride G'mach at 410-358-RIDE, if you or your guests are traveling to or from Baltimore and can take packages or passengers.
Sun, October 24 2021
18 Cheshvan 5782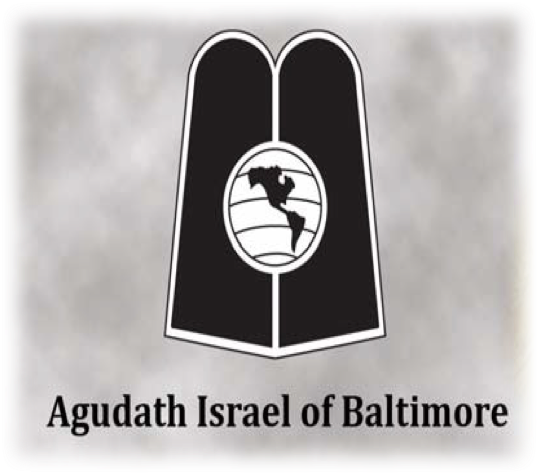 Sun, October 24 2021 18 Cheshvan 5782