פרשת בא


1/23/21 - 1/29/21
י׳ שבט תשפ״א - ט״ז שבט תשפ״א
Schedule
SHABBOS (1/23)


Leil Shabbos


Mincha/Candle Lighting - 4:57
Shkia - 5:15



Shabbos Day


Daf Yomi - 7:45
Shacharis - 6:40, 7:15, 8:30
Sof Zman Krias Shema (Gra) - 9:49
Sof Zman Tefilla (Gra) - 10:39
Daf Yomi - 3:25 (Pesachim 63)
Rav's Gemara Shiur - 3:40
Mincha - 2:00, 4:25, 4:40
Rav's Halachic Issue Shiur - will not take place
Maariv - 6:18
Zman Melacha - 6:30

WEEKDAY (1/24 - 1/29)



SHACHARIS


Sun, Tues, Wed, Fri - 6:20, 7:00, 7:30, 8:00, 8:30, 9:00
Mon, Thurs - 6:10, 6:50, 7:20, 8:00, 8:30, 9:00



MINCHA


Sun - 1:00, 2:00, 3:00, 4:00
Mon - Thurs - 1:00, 2:00, 4:00
Fri - 1:00, 2:00, 3:00



MINCHA/MAARIV


Sun - Thurs - 5:05



MAARIV


Sun - Thurs - 6:00, 6:30, 7:00, 7:30, 8:00, 8:30, 9:00, 9:30, 10:00, 10:30, 11:00
Announcements
Tu B'Shvat is Thursday, January 28.

Pirchei
Friday night learning - 8:00 pm
Motzei Shabbos learning - 7:00 pm

Shalosh Seudos will not take place in shul this week.

The Rebbitzen Ruderman library is now open by appointment.

Please daven for
Rav Sheftel Neuberger, Sheftel Meir ben Chaya Yehudis
Rabbi Yitzchok Lowenbraun, Yitchok ben Yenta

Lost and Found
- Found on Menlo, metal hand dolly. Contact 410-358-7433
- There are many coats in the Lost & Found in the Agudah. They will become hefker on February 16. Please check for your items. Items are in the balcony on the rack facing Park Heights Avenue.
Shul COVID-19 Changes
מנינים update: In order to enable people to daven at the time of their 
choice and to ensure social distancing at all מנינים, we are monitoring the
 מנינים and adjusting accordingly. We are also working to ensure that no
one comes to Shul at a scheduled time for a תפילה and does not find a מנין.

Face Masks: The Rav has stated that face masks covering the mouth
and nose must be worn at all times at the Agudah building. This
applies even when learning, davening for the amud, or leining for
the tzibbur. One who is unable to comply should not enter the building.

Family members (from the same household) must sit next to
each other so as to leave available more areas with proper social spacing.

Non-members should choose Minyanim which have sufficient space 
for members and their children to sit with social distancing.



עזרת נשים

: On שבת morning, the balcony will be available for women. 
The second floor עזרת נשים will be available for overflow men.

In-person Learning Programs
Rav Heinemann





Rav Heinemann's shiurim are also available by live dial-in at:
1-408-418-9388
Access code: 798 761 947

  All callers will be muted to start.
  If you wish to ask a question, unmute yourself by pressing *6   
  After the question re-mute yourself by again pressing *6
Storch Memorial Halacha Shiur – Sunday, 7:30pm in 3rd floor Beis Medresh

Choshen Mishpat – Sunday, 8:30pm in 3rd floor side classroom

Rambam – Tuesday, 8:30pm in basement

Michtav M'Eliyahu – Thursday, 9:00pm in 3rd floor side classroom

Halachic Issues – Shabbos, approx. half-hour before Maariv in 1st floor Beis Medresh

Halacha (women only) – alternate Mondays, 9:00 - 9:45pm in balcony

This Women's

Shiur

resumed

21 Dec 2020.

The

Shiur

will be in-person! For those who are unable to participate in person, we have phone and video options.

Internet Video:

cdn.audiovideoweb.com/lnks/play/8c3flslive2170

Phone: 408-418-9388 Access code: 798 761 947

All callers will be muted to start. If you wish to ask a question,

unmute

yourself by pressing *6. After the question re-mute yourself by again pressing *6

Some technical support will be available at: 443-850-3190
---
Rav Frankel
Daf Yomi – 

At Agudah in library: Sunday 7:45 - 9:15am; Shabbos, one hour before mincha

At Glen Ave: Monday - Thursday 9:00 - 10:00pm

Mishna Berurah – 

Sunday, 8:30 - 9:00pm

Monday - Thursday 8:20 - 8:55pm in balcony
Information and Resources
JCOVID
This website
provides a live feed of updates in the Baltimore community related to the COVID-19 situation.
Loan Gemachs
During the current crisis, these Gemachs can lend a borrower up to $2000 to be repaid using head checks, the first payment will be due 3 months after the loan is made. The Gemachs require two cosignors for the loan. Contact the Gemach contact for more information.
The Agudas Yisroel of Baltimore Singer/Blatt Gemach - contact Tzvi Hefter 410-764-3913
PS Gmach - contact Nachman Schachter 410-358-2268
Avigdor Free Loan Association - contact Yitchok Steinharter 410-358-0316
The GLRMF Gemach - contact Yossi Goldstein 443-286-1327
Hebrew Free Loan Association - contact David Kramer 443-286-8092 or email HFLA@jfs.org
Community Announcements
National Service: The Technology Chizuk Hotline. Inspiration regarding the challenges of modern technology. Call to listen to a collection of powerful speeches given by rabbonim and mechanchim. Tel: 641-715-3800 code 886563#. Available in English, Hebrew, Yiddish.

Ride Gemach - Please call the Share-A-Ride G'mach at 410-358-RIDE, if you or your guests are traveling to or from Baltimore and can take packages or passengers.
Sat, January 23 2021
10 Shevat 5781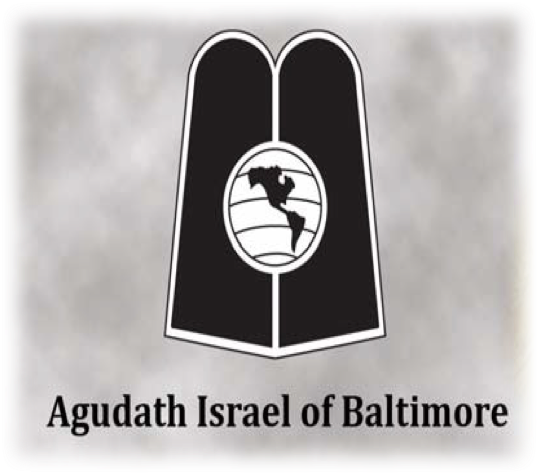 Sat, January 23 2021 10 Shevat 5781