פרשת עקב
7/31/21 - 8/6/21
כ״ב מנחם אב תשפ״א - כ״ח מנחם אב תשפ״א
Schedule
SHABBOS (7/31)


Leil Shabbos


Early Shabbos
Mincha - 7:10
Candle Lighting - 6:52 to 7:32
Bzman Mincha/Candle Lighting - 8:02



Shabbos Day


Daf Yomi - 7:45
Shacharis - 5:26, 7:15, 8:30
Sof Zman Krias Shema (Gra) - 9:39
Sof Zman Tefilla (Gra) - 10:50
Daf Yomi - 5:00 (Sukah 24)
Rav's Gemara Shiur - 5:00
Mincha - 2:00, 5:00, 6:00, 7:45
Rav's Halachic Issue Shiur - 8:50
Maariv - 9:20
Zman Melacha - 9:32

WEEKDAY (8/1 - 8/6)



SHACHARIS


Sun, Wed, Tues, Fri - 6:20, 7:00, 7:30, 8:00, 8:30, 9:00
Mon, Thurs - 6:10, 6:50, 7:20, 8:00, 8:30, 9:00



MINCHA


Sun - 2:00, 3:00, 4:00, 5:00, 5:30, 6:00, 6:30, 7:00, 7:30
Mon - Thurs - 2:00, 4:00, 5:00, 5:30, 6:00, 6:30, 7:00, 7:30
Fri - 2:00, 3:00, 5:00, 6:00



MINCHA/MAARIV


Sun - Thurs - 8:00



MAARIV


Sun - Thurs - 9:00, 9:30, 10:00, 10:30, 11:00
Sun, Thurs (additional) - 11:30
Announcements
Shabbos Pirchei Groups - 2:30
Grades 1-5

Shalosh Seudos will take place in shul this week following the latest mincha.

The Rebbitzen Ruderman Library has been negatively impacted by Covid-19 and needs your financial help. Please contribute using the link at the bottom of this newsletter.

The Rav's biweekly shiur for women will take not place this week on Monday.

Nishei Agudath Israel Summer Shiurim have resumed (Masks are required for non-vaccinated attendees). The shiur this week is at 5:15 pm at the home of the Jacobys, 5202 Wallis Avenue (map). Rabbi Boruch Leff will speak on the topic of "How Can We Comfort Ourselves?"
Sponsorship Opportunities
Two new outdoor benches for the playground and one on the grass next to the Shul entrance under the tree - approx $375 each.
For more information, please email R' Zvi Schwartz at rabbitzvischwartz@gmail.com.
In-person Learning Programs
Rav Heinemann





Rav Heinemann's shiurim are also available by live dial-in at:
1-408-418-9388
Access code: 798 761 947

  All callers will be muted to start.
  If you wish to ask a question, unmute yourself by pressing *6   
  After the question re-mute yourself by again pressing *6
Storch Memorial Halacha Shiur – Sunday, 7:30pm in 3rd floor Beis Medresh

Choshen Mishpat – Sunday, 8:30pm in 3rd floor side classroom

Rambam – Tuesday, 8:30pm in basement

Michtav M'Eliyahu – Thursday, 9:00pm in 3rd floor side classroom

Halachic Issues – Shabbos, approx. half-hour before Maariv in 1st floor Beis Medresh

Halacha (women only) – alternate Mondays, 9:00 - 9:45pm in balcony

The Shiur

will be in-person! For those who are unable to participate in person, we have phone and video options. Phone is described above.

Internet Video: cdn.audiovideoweb.com/lnks/play/8c3flslive2170


Some technical support will be available at: 443-850-3190
---
Rav Frankel
Daf Yomi – 

At Agudah in library: Sunday 7:45 - 9:15am; Shabbos, one hour before mincha

At Glen Ave: Monday - Thursday 9:00 - 10:00pm

Mishna Berurah – 

Sunday, 8:30 - 9:00pm

Monday - Thursday 8:20 - 8:55pm in balcony
Community Announcements
National Service: The Technology Chizuk Hotline. Inspiration regarding the challenges of modern technology. Call to listen to a collection of powerful speeches given by rabbonim and mechanchim. Tel: 641-715-3800 code 886563#. Available in English, Hebrew, Yiddish.

Ride Gemach - Please call the Share-A-Ride G'mach at 410-358-RIDE, if you or your guests are traveling to or from Baltimore and can take packages or passengers.
Sun, August 1 2021
23 Av 5781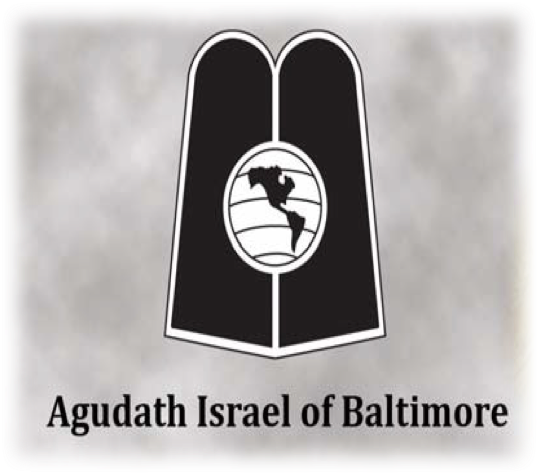 Sun, August 1 2021 23 Av 5781